Hans Christian Andersen's fairy tale,
originally adapted by Michael Smith, Frank Galati and Blair Thomas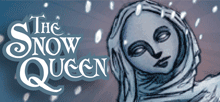 Folk legend Michael Smith's wickedly clever, wild ride into Hans Christian Andersen's beloved winter tale burst with warm storytelling, amazing puppetry, inventive choreography, and a magical score.
Based on Hans Christian Andersen's beloved winter tale about a boy lost in the cold, and the girl who won't give up until she finds him, The Snow Queen is the rare family fare that sings to children, and speaks to adults.
---
Synopsis:
Once there was a magic mirror created by goblins in which everything beautiful appeared ugly and everything ugly looked even uglier. When the mirror cracked and shattered, all the little pieces fell to earth,and when they landed in someone's eye or heart, that person would see only the bad in the world.
One day, when two little children, Kai and Gerda, were inside Grandmother's house during a snowstorm, Kai was visited by the Snow Queen, and struck with a splinter of the magic mirror. He started to become mean, even to Gerda, his closest friend.
One day when he was out on his sled, he saw a great white sleigh and hitched his sled to it. The sleigh turned out to be the Snow Queen's, and she quickly flew away with him to the North Pole. Traveling with the Snow Queen, Kai's heart turned to ice, and he forgot all about Gerda and home and the joys of childhood.
However, Gerda never forgot about Kai, and when he did not return from sledding, she began a very long journey to find her friend. On her way, she encountered an old woman with a magical garden, a talking raven, a princess, a little robber girl and her mother, a talking reindeer, and a Lapp woman and a Finn Woman who helped Gerda reach the Snow Queen's palace.
When Gerda found Kai, her warm tears melted the ice in his heart. When Kai cried, his tears washed away the glass in his eye, and together, he and Gerda fled the Snow Queen's palace and returned home, safe at last.
Songs:
Act I
Once Upon a Time in Copenhagen
Summertime Kids
Nobody Blames the North Wind
White Bees / Up in the Clouds
Winter's Night
I'm Cold
Something in My Eye
Hitchin'
Come Love Remember
Red Shoes
Brave Little Boat
Wind in the Cherry Trees
Wooden Soldiers
Golden Comb
Act II
November Already
Ravenheart
Princess and Memory
Jenny Lind
Robber Girl
Lapland
Love Letter on a Fish
Palms of God's Hands
Halls of the Snow Queen Palace
House of Ice
Snow Queen Soldiers
Blood Red Roses
Halls of the Snow Queen Palace (Reprise)
Come Love Remember (Reprise)
Warm Bright Beautiful Summer
---
THE ORIGINAL CREATORS OF THE SNOW QUEEN
Hans Christian Andersen (1805-1875) was born in the slums of Odense, Denmark, the son of a shoemaker and a washerwoman. He went to university in Copenhagen where he became known for his poetry. His first book of fairy tales was published in 1835, followed by many other volumes of children's stories, almost one a year, until 1872. He wrote more than 150 fairy tales in his lifetime, including The Little Mermaid, The Emperor's New Clothes, and The Ugly Duckling, and his stories have been translated into over 100 languages. Tall and skinny with a big nose, Andersen always thought that he was very ugly. Hence, his tales showed compassion for those who are outcast and suffering, and that there is a magical beauty even within the most unlikely characters. Because of his wonderful stories, which were not meant merely for children but for adults as well, Andersen became known as the greatest writer in Denmark, and he remains one of the most beloved children's authors in the world.
Michael Peter Smith (Lyrics and Music, Musician) has been singing and composing since the 1960s, and more than 30 performers have recorded his rich and challenging songs. Smith's score for The Snow Queen echoes his past hits at Victory Gardens, his musical autobiography Michael, Margaret, Pat & Kate in 1994, winner of four Joseph Jefferson Awards, and Hello Dali: From the Sublime to the Surreal, his folk music homage to the world's great artists performed in 2000. Smith also wrote the music for Chicago Children's Theater's adaptation of Oscar Wilde's The Selfish Giant, in collaboration with Blair Thomas, as well as Frank Galati's staging of The Grapes of Wrath at Steppenwolf, which transferred to New York and won two Tony Awards. He is perhaps best known for writing "The Dutchman," a song that was popularized by Steve Goodman. He continues to perform regularly, and has been seen at dozens of major folk festivals. For more information, go to michaelsmithmusic.com.
Jim Corti (Director) returns for a third season to direct The Snow Queen having choreographed the previous two productions. He debuted at VG co-directing with Dennis Zacek while choreographing and performing You Move and directed Symphony Pastorale/Fugue and Doug Post's musical adaptation of Antigone, God and Country. At Drury Lane Theatre Oakbrook Terrace he recently directed Cabaret and received a Jeff Award for Outstanding Director for Sweet Charity and a nomination for Meet Me In St. Louis that same year. Also for Drury Lane he helmed Damn Yankees, Bye Bye Birdie, and choreographed Company and Singin' In the Rain for which he received a Jeff for Outstanding Choreography. Corti was awarded a Jeff as well for his direction of Blues In the Night at Northlight where he choreographed City on the Make, a musical adaptation of Nelson Algren's stories. He directed The Cleveland Play House productions of A Day in Hollywood/A Night in Ukraine, A.. My Name is Alice, and The Canterbury Tales. For Writers' Theatre, he is currently directing Oh Coward! and will helm Lonnie Carter's The Lost Boys of Sudan at VG in the spring. A Broadway actor as well, Corti appeared in the New York cast of Ragtime, A Chorus Line, and Candide as well as the national tours of Urinetown, Cabaret, and Bob Fosse's Dancin'.
Blair Thomas & Co. (Puppet Design) is a company of collaborators founded by Blair Thomas, co-founder and former artistic director of Chicago's Redmoon Theater. In addition to The Snow Queen with co-puppet designer Meredith Miller, his credits include the recently concluded Hard Headed Heart: A Chicago Neighborhood Tour, The Selfish Giant for Chicago Children's Theater, The Oxherder's Tale at Museum of Contemporary Art, Cabaret of Desire at DCA Theatre, Trinity Repertory's A Christmas Carol, and The Rabbit's Tale with the Chicago Symphony Orchestra. Before this he started Chicago's award-winning Redmoon Theater in 1989 and served as artistic director and co-artistic director until 1998. He is an Adjunct Associate Professor at the School of the Art Institute of Chicago, and was the first Jim Henson Artist in Residence at the University of Maryland.